Organic Moringa Leaf Powder is made from the tree Moringa Oleifera and has quickly become renowned as the world's greatest superfood. The plant is native to Pakistan and is known as the miracle tree. The tree leaves are rich in numerous nutrients.
The organic Moringa leaves are plucked from the tree and cleaned. The leaves are then dried up and grinded into fine powder. This organic product contains no additives or chemicals and is 100% natural.
Moringa powder contains all the essential amino acids. It is a good source of vitamins C and A and various minerals. Extensive research has proven that the powder is a superfood known to fight cancer cells.
Moringa powder is a natural source of multivitamins and boosts energy and metabolism. Being rich in calcium, it is known to be beneficial for growing children and fighting bone diseases.
Reduces Tiredness & Fatigue – The rich iron content in moringa makes the body naturally agile and active.
Revitalizes the Skin – The antioxidants in this superfood help protect and repair cell damage, minimizing the skin's ageing process.
Boosts Immunity – It is rich in Iron, Vitamin A and Vitamin C, all of which are essential for an immune system to function.
Builds Muscle Growth – Moringa oleifera leaves are approximately 25% protein, which helps maintain and build muscle mass.
Anti-Stress Agent – The leaves are a form of adaptogens, which help the body relax and eliminate the toxic effects of stress.
Aids in digestion – Since it is a rich source of calcium and fibre, it assists in maintaining a healthy digestive system.
Strengthening Bones – This superfood is a valuable source of vitamin k, calcium, and protein, which protect and strengthen bones.
Prevents Diabetes – Moringa powder is a good way to treat diabetes as it reduces blood sugar levels in your body.
May Help in Curing Cancer – As it's an extremely rich source of vitamin C, it may help in fighting cancer cells.
Weight Loss Agent – Rich in antioxidants, chlorogenic acid and other nutrients that aid in reducing fat.
NUTRITIONAL VALUE OF MORINGA
21 grams / 1 cup of Moringa leaves contains:
Protein: 2 grams
Vitamin B6: 19% of the RDA
Vitamin C: 12% of the RDA
Iron: 11% of the RDA
Riboflavin (B2): 11% of the RDA
Vitamin A (from beta-carotene): 9% of the RDA
Magnesium: 8% of the RDA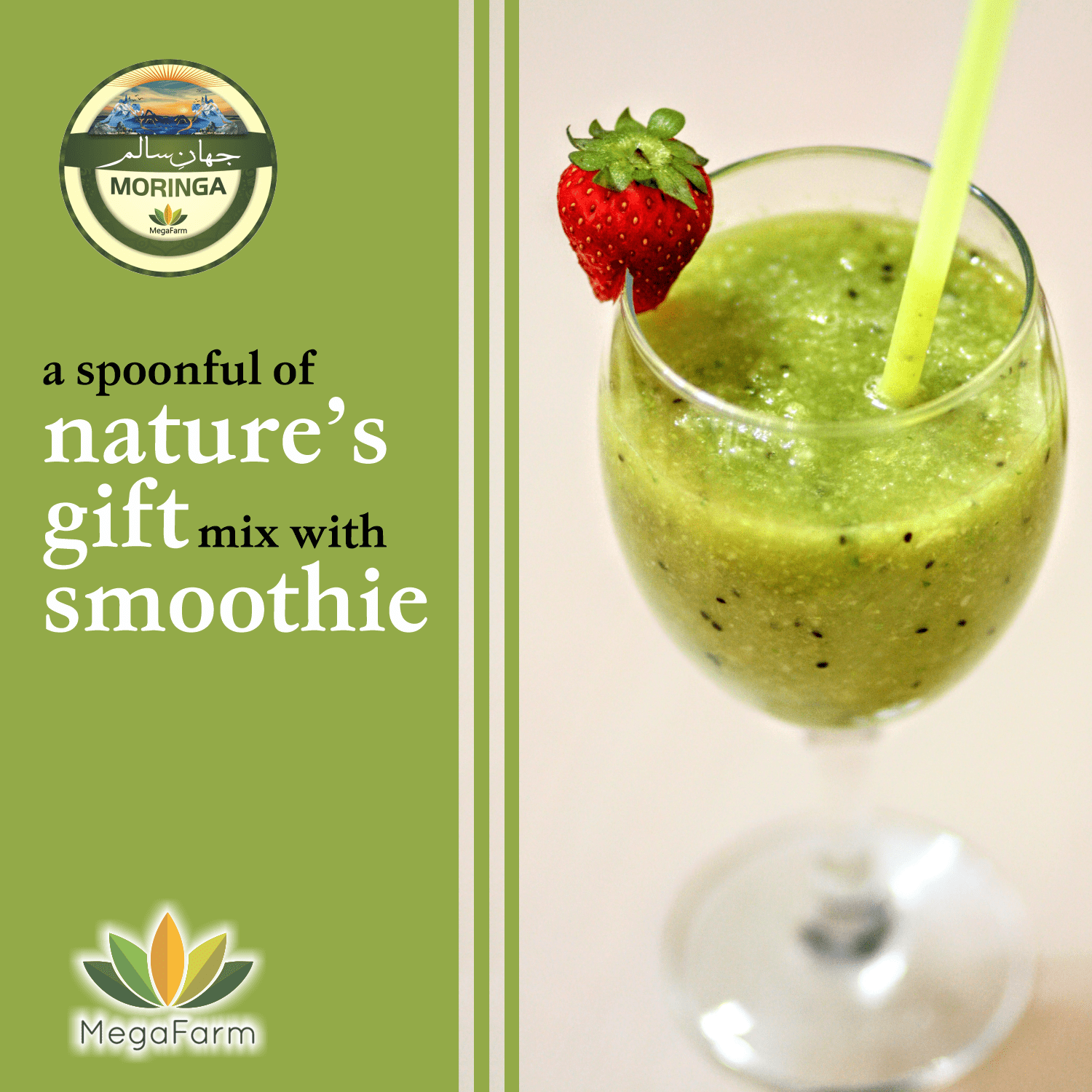 HOW TO USE ORGANIC MORINGA LEAF POWDER
There are many ways to reap the benefits of Moringa and make it a part of your daily diet. One of the most common ways to use this superfood is to sprinkle 1 tsp of the powder onto your meal. It can be mixed into fruit yoghurts or your breakfast cereals/granola.
You can also mix 1 tsp in liquids such as smoothies, juices, green tea etc., or you can mix 1 tsp in boiling water and then stir and drink.,/p>
Many types of skin masks also use Moringa, as it clears blemishes and acne.
One of the few recipes is to mix 1 tbsp of Moringa, 1 mashed ripe avocado, 1 tbsp honey and 1 tsp of fresh lime or water.
Then, apply evenly on the face and leave for 15 -20 minutes.
After which, you can rinse out with warm water.